This beautiful, modern landing page template is built on Material Design, Google's brand new and well-received design guideline. Employing the famous Materialize framework it comes with 10 pre-built color schemes and 4 types of banner types. With it's 16 sections this template will surely meet every requirements your company can have to showcase it's main product and introduce itself.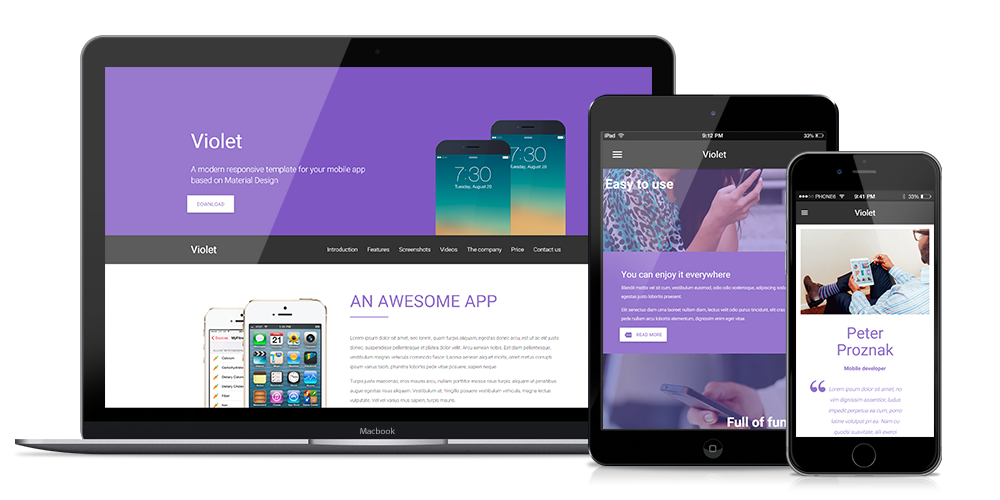 Click to see the demo
Violet is built using the Materialize framework to best employ Material Design. All colors come from the Material Color palette and animations and shadows all have their meaning.
We have created 10 different color schemes which you can easily test with the settings button on the right side of the page.
Violet is a fully responsive theme ensuring that your company's site looks good on every device.
Sections you can use:
Hero section
Introduction
Feature list
Accordion main features
CTA (Call to actions)
Screenshot carousel
Videos with description
Testimonials
Counters
Our works list/gallery
Timeline
Our skills
Prices
Client list
Team introduction
Subscription form
Contact form
Footer
We hope you will like it. If you have any questions regarding this template please feel free to contact us at webadmin@optin.hu.